Why a Push Test is not enough
"By pushing & holding the test button for a few seconds, your smoke alarm should produce a loud noise. This is commonly referred to as a "PUSH TEST" & is frequently conducted by Landlords & Real Estate Managing Agents in residential & holiday rental properties who mistakenly think it is sufficient to meet Legislative requirements"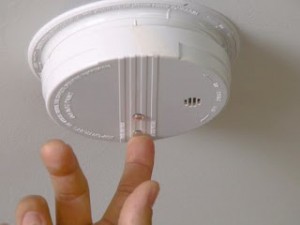 SOME LANDLORDS & MANAGING AGENTS BELIEVE A "PUSH TEST" IS ENOUGH
A PUSH TEST IS NOT SUFFICIENT FOR LEGISLATIVE SMOKE ALARM COMPLIANCE
HERE IS WHY IT ISN'T!
The button test only ensures the batteries are working. It does not prove the alarm is actually functioning, will operate accurately in the event of a fire, alert tenants & save lives
There is little or no paperwork or documentation to cover you if there is a fire, insurance claim paperwork or any other dispute
Having a Smoke Alarm that doesn't work can & has been a Fatal Mistake
WHAT DOES THE CENTRAL COAST SMOKE ALARM SERVICES TEST ACHIEVE MORE THAN JUST A PUSH TEST?
Checking the expiry date of the smoke alarm – after 10 years from date of manufacture the alarm has expired, is unsafe & must be replaced
Artificial Smoke testing
Is it loud enough to wake sleeping household members? This requires a Decibel (volume) reading of over 85 tested with specialist equipment
Checking if the positioning of the Smoke Alarms are effective & that there are enough Smoke Alarms throughout the house or business to detect smoke in all areas of the building
Maintaining the cleanliness of the unit
Certificate of Compliance emailed to your agency for your records
Ensures your agency has precise, detailed & complete documentation of the systems you have in place to ensure legislative requirements are fulfilled