Smoke Alarm Services are a Core part of our Smoke Alarm Services & Smoke Alarm PLUS+ Services.
What's included in our Smoke Alarm Compliance testing?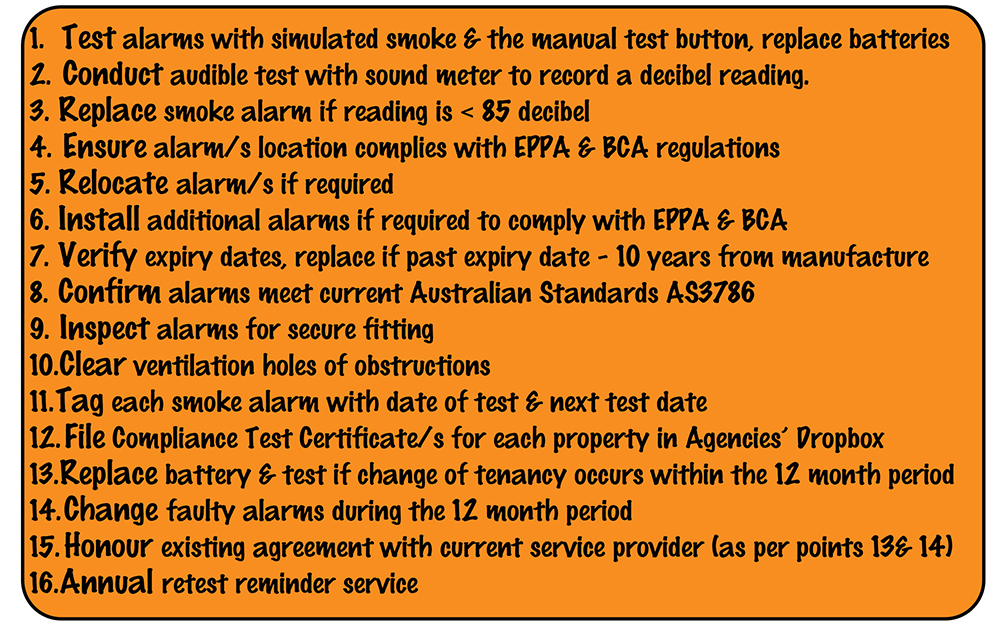 What are the laws surrounding Smoke Alarm Compliance?
• Environmental Planning & Assessment Act (EPA)
• Section 146A is 3 pages long. We have conducted a comprehensive review of the legislation to ensure our services do meet
Smoke Alarm Compliance.
• Building Code of Australia Volume Two 2013
• Must comply with Australian Standard AS3786 which outlines the positioning & number of smoke alarms in a residence.
• Fair Trading states in the Residential Tenancy Contract:
• Section 19: outlines urgent repairs are required to be addressed (Smoke Alarms are named as urgent repairs)
• Section 38: The Landlord agrees to ensure that smoke alarms installed in the property are installed in line with Section 146A of the Environmental Planning & Assessment Act
• Section 39: The Landlord & tenant each agree to not remove or interfere with the operation of a smoke alarm installed on the premises unless they have reasonable excuse to do so
• Real Estate Institute of NSW – Smoke Alarms (May 2014)
• NSW Fair Trading website including fact sheets titled: "Safety and Security – Information for Landlords" "Repairs & Maintenance" and "Smoke Alarms"
• Schedule 1 to the Residential Tenancies Regulation 2010 (NSW)
This table shows you the breakdown of services between the 2 compliance packages.